Interview with Vaia Doudaki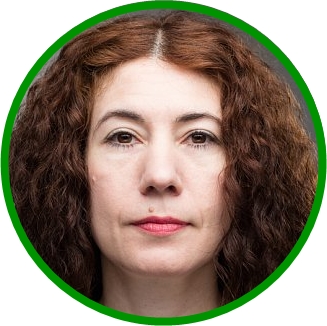 Vaia Doudaki works as an Assistant Professor of Communication and Media Studies, at Charles University in Prague. She is part of the MISTRA Environmental Communication programme's research team, working mainly for the Media and Art project (WP5). She argues for the urgent need to open doors, burst bubbles and create spaces of dialogue and action, to address the pressing environmental issues.
Anna: Vaia, you work as a researcher for the MISTRA Environmental Communication research programme. Before we discuss your engagement with MISTRA EC, I would like to start with the beginning of your academic career. Was working in the academia your dream, did you have initially a different dream job, and how did you end up as an academic researcher?
Vaia: I do not think that I had a dream job. I studied Media and Journalism Studies, a discipline that I was highly interested in. I worked also as a journalist for several years, but I was intrigued by research in the broad sense. So, I was interested in journalism and journalistic practice, but I felt that I needed to further explore the opportunities and challenges of other kinds of research - in this case, academic research. I was also fairly critical about the state of journalism in Greece, which is my home country, so I wanted to explore also the critical aspect of journalism and media, and this is what I think led me to the academic path.
During your academic career, you have lived and worked in different countries: you first started working at Panteion University in Athens, Greece, then you moved to Cyprus, working at Cyprus University of Technology, later-on to Sweden working at Uppsala University and now you are based in Prague, working at Charles University. You've had a long journey already. Each country and academic institution are, of course, unique, but one could argue that from a general academic perspective, there is always a considerable difference between the academic researcher and the academic lecturer. How has this changed for your during this journey of experiences?
Throughout all these years that I've been teaching, I've been engaged in a broad range of courses that relate, for example, to the practical and theoretical dimension of journalism, to media and communication theory, to critical issues in media and communication, etc. What I have found fascinating but also challenging about teaching is that each time the dynamics and interactions create a unique environment. Each course is unique, each classroom is different. So, one of the main gains for me, teaching in different countries, academic traditions and cultures, is learning to be attentive to difference, cherishing complexity and multiplicity.
As it regards research, one major challenge is efficient time management, because time is always limited. On the other hand, in humanities and the social sciences, we can conduct research with limited resources. We don't need expensive laboratories, and we are not dependent on technology in the same way as some of the other scientific fields are. Of course, when we have financial resources we can pursue large-scale research or explore a field or phenomenon and its interconnections with other fields and phenomena in greater depth and extent. But still, one of the luxuries we enjoy is that we can, even within our limited time and resources, and in parallel with all our other obligations, conduct research in the areas and topics that interest us. And this is important, this is something that I cherish - the academic freedom to pursue our research interests. This is vital for our work and for our broader societal mission, and it should be protected.
Let's move to the areas of your research activity, which is very diverse. You have conducted research on journalistic practices and identities, on power, on feminist issues, on crises and their representation in media, etc., and you are now conducting research on environmental communication. Are there any connections among these research areas?
The range of my research activity is indeed broad. And this is something that I appreciate in our discipline of media communication studies, its breadth and interdisciplinarity. My work lies, in general, at the intersection of journalism studies, discourse studies, and alternative media studies. What connects these fields in my research is that I have been engaged mostly with critical and post-structuralist approaches, under the broad social constructionist paradigm, which means that I approach social phenomena as socially constructed, as dynamic and not fixed, and as the product of ideological struggles, reflecting different power dynamics.
As you mentioned, I have conducted research on conflict and crisis in media and communication, and I have explored a variety of related phenomena, such as economic crises, ethnic conflicts and nationalisms, social exclusion, migration, poverty, environmental issues, etc. So, I don't see environmental communication as something disconnected. If we look, for example, at the research being conducted within the MISTRA Environmental Communication programme and more specifically the research undertaken by the work package 5 (WP5) research group, it explores how the different ideological struggles concerning environmental issues are represented and socially constructed, in media and the arts, which has been very close to my research so far, at the paradigmatic and theoretical levels.
Speaking of Work Package 5, congratulations on your recently published article called "From Stakeholders to Joint Knowledge Production Partners: The Participatory Development of Guiding Principles and Toolkit to Structure the Participation of Non-Academic Partners in Academic Research" . You mention in the article, which you published together with Nico Carpentier, that it "addresses the need to involve societal partners in the start-up phases of projects that aim for participatory knowledge production". How does this piece of research relate to your work in MISTRA EC?
This article explores the collaboration, interactions and power dynamics among the Work Package 5 team members, during the start-up phase of the research project. The publication is connected to one of my areas of responsibility in MISTRA EC-WP5, which is the collaboration with societal partners aiming for joint knowledge production. The entire research programme and what we do in WP5 have a clear component of participatory and collaborative activities with societal partners. This is based on our position that the academic field is not, and should not be, the exclusive field where knowledge is produced; especially when it comes to broad societal phenomena that relate, for instance, to the environment. We need to open the doors of the academia to a broad range of societal actors and create the conditions that will allow us to explore together- but also create together - knowledge about the environment, in ways that are relevant for society.
What, do you think, is the gain for you, as an academic researcher, from this kind of research? Is it that the interactions with societal partners, who are not part of the academic world, push your perspective beyond the academia?
Interacting with members that come from different backgrounds and fields makes us conscious of difference, of the need to respect difference and the different positions, and of the need to create the opportunities and the space for the 'others' to speak. The academic actors often feel that they maintain the privilege of voice. 'We know, we are the experts, we know best'. No, we don't know best. Of course, we develop expertise and construct knowledge, through our produced research, publications and teaching. But this doesn't mean that we are the exclusive producers of knowledge. So, we need to create spaces for societal actors, for individuals, groups, etc., where they feel comfortable to express themselves and address the issues that they think are relevant. When it comes to environmental issues and the challenges related to the environment, which are so complex, we cannot self-isolate in institutional bubbles, whether they are political bubbles, academic bubbles, media and journalistic bubbles, or even activist bubbles. What we want with this project is to burst some of these bubbles, and engage in dialogue, interactions and activities, critically and openly addressing the pressing environmental issues, but also exploring and pushing forward change-oriented action.
One of the projects the MISTRA EC-WP5 team has been engaged in, is the 'mapping environmental media and arts' project. Can you briefly explain what does this project involve?
In this project, we explore and map the arts and media that focus on the environment, in Sweden. We focused, more specifically, on art projects and art exhibitions, audio-visual media (television series and documentary films) and social media (Facebook groups, blogs and YouTube channels), over a period of one year (May 2019 – April 2020). We have recently completed the data collection and we have identified 502 arts projects and media products that have an explicit focus on environmental issues.
What is particularly interesting about this mapping project is that it gives a fairly broad picture of the media and arts in Sweden that focus on the environment, and of how these products and spaces of communication address the environmental challenges, the issues of sustainability and the human-nature relations. The detailed analysis of the data is still at an early stage, but it becomes already visible that these arts projects and media products engage in a considerable diversity of topics, issues and positions, about the environment.
To what extend does the mapping project capture the current issues and debates about the environment?
The project focused on specific types of media, and as I mentioned, it covered a period of one year. In that sense, some areas were not mapped. At the same time, due to the breadth of the project, we believe that we have managed to capture the diversity of ideological positions and struggles concerning the environment, as they are expressed today in Sweden.
The mapping results are indicative, I think, of the dynamic engagement of a large part of society, in environmental issues and discussions. If we look, for example, at social media, we identified 52 blogs, 112 YouTube channels and 152 Facebook groups, which are mainly non-institutional, organised and managed by individuals and groups of concerned members of society. Some of these social media spaces focus on very specific topics and some of them address a broad diversity of issues. Some are basically celebrating the beauty of nature, and some engage in political and activist positions, which can be at times controversial or highly polarised.
As we are approaching the end of this interview, allow me to ask a non-academic question. You come from Greece, you have lived in Cyprus, moved to Sweden, and now you live in the Czech Republic. I know that the past year has not been a 'normal' one, but setting the pandemic conditions aside, which place do you feel mostly connected to?
It is, I believe, understandable that the cultural and social connection that I have with Greece is strong. The place where a person grows up has a big impact on one's identity. Prague, where I currently live, is a very charming place; it is particularly pleasurable to walk in the city. I feel I have a lot to explore, also as it concerns the city's and the country's rich and turbulent history. And this is an appealing journey to embark on.
Could you name one thing you have missed the most?
It is difficult to answer. I know that I might be generalizing and not giving a straightforward answer, but it would be different things at different times.
And one thing now?
The sense of light, of the sky and the sea, in Greece and in Cyprus.
I see that we finish the interview very environmentally!