MISTRA-EC@ICSJ launches call for SUN workshop co-organizers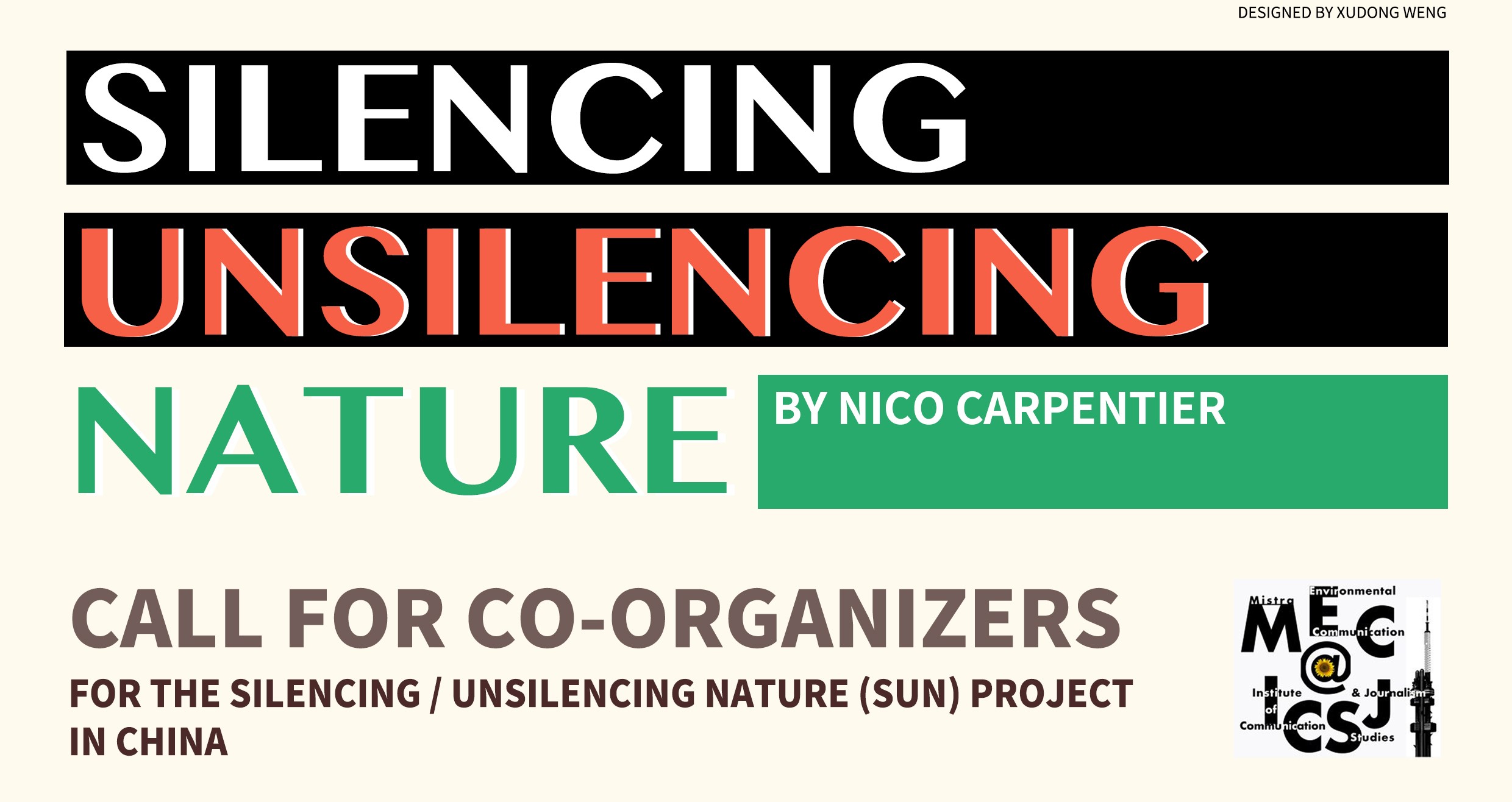 CALL FOR CO-ORGANIZERS FOR THE SILENCING / UNSILENCING NATURE (SUN) PROJECT IN CHINA
THE STORY BEHIND THE PROJECT
The Silencing / Unsilencing Nature (SUN) project, authored by Nico Carpentier, is an educational package that unpacks the relationships between humans and nature, and that reflects on how nature often has been silenced. The project uses participatory photography methods to facilitate youngsters to unsilence nature, and to give nature more of a voice. In order to do this, an educational package has been developed, with guidelines, exercises, video essays and instruction videos, that allows co-organizers to organize a series of SUN workshops, with a group of youngsters. In 2021, we want to move our research lens from Europe to China, to welcome more diverse perspectives and participants. We are now looking for reliable co-organizers for SUN workshops in China, who will be able to use the SUN educational package for free.
WHO WE ARE?
Nico Carpentier is an Extraordinary Professor at Charles University (in Prague, Czech Republic) and an Associate Professor at Vrije Universiteit Brussel (VUB, in Belgium). You can find out more about him at http://nicocarpentier.net
Xudong Weng is a PhD student at the Communication University of China, and is currently doing a research stay at Charles University. He is the Chinese SUN Coordinator.
The SUN project has been developed through a collaboration between Färgfabriken, an arts centre in Sweden, and the Institute of Communication Studies and Journalism (ICSJ) at Charles University, within the framework of the MISTRA Environmental Communication (MEC) Research Programme, supported by Mistra, the Swedish Foundation for Strategic Environmental Research.
WHAT ARE THE SUN WORKSHOPS?
The SUN workshops work like this:
• Workshop 1 - LEARNING: The participants watch the video essays, so that they become familiarized with the SUN approach, and the ways of thinking behind it. They do exercises to help them to better understand the background.
• Workshop 2 – PRODUCING: The participants watch the first instruction video, go out to produce the photographs, return and watch the second instruction video, and then produce a photography exhibition and (small) catalogue together.
The process can also be organized in more than two workshops, if participants can't spend too much time together at one particular moment.
WHAT WE ARE LOOKING FOR?
We are looking for partners in China who will cooperate with us on the workshops organizing process. These are the tasks and requirements: • Provide access to a venue to organize the SUN workshops • Find participants (youngsters preferably in 16-18) • Gain formal permission from the participating youngsters (or their legal guardians) and make sure that all legal liabilities are covered • Plan the workshops in consultation with the Chinese SUN coordinator • Conduct the workshops • Document the entire process of the workshops • Collect all the material generated at the workshops and send it back to the Chinese SUN coordinator, Xudong Weng
WHAT SUPPORT WE OFFER?
The first workshops were organized in Sweden in October 2020. The project design and general concept of SUN project has been tested and proven to work. • We will provide free access to all video material of the SUN educational package, with subtitles in Chinese • We will provide free access to a detailed instruction book, written in Chinese, that explains the workshops' organization, step by step • Our Chinese SUN coordinator members will provide continuous feedback, solutions and guidance  
CONTACT
For questions concerning the application, please feel free to get in touch with us. We are looking forward to discuss a potential cooperation with you.
Xudong Weng
Communication University of China/ Charles University
Phone: +420774928667
WeChat: kt20120134
Email: wengxudong@cuc.edu.cn
Download Invitation Flyer in ENGLISH.
Download Invitation Flyer in CHINESE.