Interview with Rebecka Wigh Abrahamsson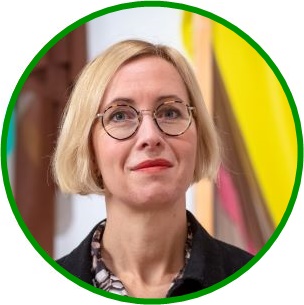 Rebecka Wigh Abrahamsson is a curator of Uppsala Art Museum, which is a municipal, museum in Uppsala. Rebecka is specialised in contemporary art, and has in her practice been addressing global issues of gender imbalance, postcolonial themes, as well as climate change.
Anna: Rebecka, my first question is the usual question I ask all the interviewees about their job decision. How did you become the curator? Was it your childhood dream to participate in art in such a way?
Rebecka: I have always been interested in art in various ways, but overall, it was not until I started to study art history at university when I realised that that was what I would like to spend my time doing. Working for example, in an art museum. The important role in this decision played also my childhood when I had the opportunity to travel and see a lot of museums… Another crucial aspect was my interest in contemporary societal issues… Thus, it was a combination of many factors and passions.
You studied art history in Göteborg. What was the biggest influence on your professional specialisation of contemporary art?
It was back in the 1990s when there was a big public debate in Swedish newspapers about contemporary art or post-modern art in relation to modern art. It was also before Swedish art scene was to expand and become more international. And I was very interested in this shift and criticism of contemporary and post-modern art, which influenced me to be more oriented on conceptional art. Another important impact was the postgraduate course in curatorial studies at Konstfack, University of Arts, Crafts and design in Stockholm.
Your professional career is very prolific. You worked for instance at Virserums Kunsthalle, and the Countymuseum of Västernorrland and since 2010 you are at Uppsala Art Museum. And we should mention that you are not the art curator only, but you have plenty of pedagogical experiences. How do all these experiences direct you to environmental communication, and which played the most important role?
After my art history studies, I also studied cultural studies and I did work at Virserum Kunsthalle, where I did art education work. There I had the opportunity to curate my first art exhibition called "The Wild". The work was connected to the things that I do now and what MISTRA Environmental Communication does because it dealt with how we engage with nature in different ways. For instance there was a project by the artist Oskar Mörnerud who is an ornithologist, and he did a lot of performative installations about the human-bird relations and mimicking different sounds. There was also a fictious video by Marth Thorsaugh from Värmland (a region in Sweden – editor's note) about hunting wolves. And I've had strong memories of public debates about whether we should hunt wolves or not.
Another topic that has played a key role are global issues. One of the early formative exhibitions for my career in was the exhibition called Artefakter (Artefacts in English – editor's note), which was dealing with the role of artefacts in art collection and how we relate to objects from other cultures, but also the sami heritage, that was present in Härnösand. The relevant sub-topic was how Swedish natural and cultural heritage and how these stories fit with the larger world. Since then, I was generally highly engaged with global issues as well.
Speaking of environmental topics, you have a long experience with environmentalism in arts from your early career. Currently, you are cooperating with WP5 of MISTRA Environmental Communication. Can you see some change in the environmental topics and their communication through arts within these years?
Absolutely. A few years ago, I did at Uppsala Art Museum one exhibition called "The Non-Human Animal – Negotiating Bio-relations". When I curated that one, I also had been thinking about the topic for a while, and did the research... And finally, when the show went on in 2019, there were a lot of exhibitions addressing similar topics. So, you could see the big shift of interest in environmental topics.
Moreover, we opened almost at the same time as Greta Thunberg came to New York on a sailing boat to make her speech in United Nations. So there was definitely a different kind of interest of the society about the issue. But I need to point out that there is also a change just within the last few years since then to nowadays. Compared to the 2019 show, which had a lot of reviews and interest, but at the same time, the art critics were very sceptical or hesitant to weather art should address these environmental topics.
On the other hand, the change can be brightly seen also in the context of artistic freedom to work on these very political issues as environmental topics have become, but years ago were not so popularized. And for me as a curator, it is important to secure the artistic freedom. Thus, there is definitely a big change in the last few years.
Why do you think the environmental issues and the environmental communication in art became so politicized?
I think the climate change is one of the largest issues we need to handle. We need to act now. But as we need to make these exhibitions, which are important, we need to do it in a clever and productive way, that neither puts people off or becomes too dark. I do think art has a wonderful potential to both show the complexity and stir the imagination, for other ways of living.
Currently, the whole world is fighting with COVID-19 pandemic. How do you find these times challenging our society not only in the context of environmentalism but in your general perspective over the society attitude? Some voices raised opinions that many people, who lived very hectic life and had no time to not only nature-oriented topics much time, are more into the online arts events.
I mean, in one way it is true, but on the other hand, the museums in Sweden have been opened much longer and with no restrictions for a very long time, compared to other countries, we were closed from November, but still people were afraid to come. Therefore, I personally have been very much appreciated that we can do online events, and meet with people from all around the world and discuss various topics. Since we started the online events, we as Uppsala Art Museum have been experiencing new groups who are following us digitally, who never visited us before, but now they have time. Since the pandemic is understood as the time of crisis, I also think that people make their connections to climate change crisis more often, because it has been such a drastic change in their personal life.
Now speaking concretely about MISTRA in general, how do you see your role in MISTRA Environmental Communication Programme?
There are several thoughts… Firstly, I am quite interested, not only because of the exhibitions which I did, but also because I am intrigued in inter-logic of media, and how media interpret art. So that is something I hope to find more within the project. Secondly, it is a very good way to connect with other people from interdisciplinary backgrounds and perspectives. For the future, I hope that I will be able to curate a new show that would combine some of the topics and knowledge from the research programme.
You have been participating on some of WP5's events within the last year. Was there already some important outcome for you by the programme?
I participated in the event on temporality ("The Passing the Time: Reflection on the temporal dimensions of the environment"– editor's note) with the contribution "Temporalities in art – Can aesthetic experiences be an agent for climate change awareness?" together with the artist Alvaro Campo that we exhibited and I found very important to get the comments from the researchers, so I really enjoyed the mix of people, their knowledge and backgrounds. I also attendend the conference Acclimatize of Moderna Museet that was dealt with the role of art museums when it comes to climate change issues. It was curated by Ylva Hillström, and I found it very interesting because - even though that I did know a lot of things from my practise - still many things such as psychology how to act for example, were brought up in different context. If we as a population want to do something with climate change, we need to be more political and try to get the politicians to do better decisions.
And one of them can be your newest event called The Living Library. Could you tell our readers something about its background?
Uppsala Art Museum is one of the collaborating partners and since we cooperated for the mentioned "The Non-Human Animal" exhibition with Keri Face, the Zennström professor in Climate Change Leadership from Uppsala University, we were invited to collaborate with a new professor, Stefania Barka whose programme is about the climate justice and decolonising the debate of climate change. She concentrates on for instance on indigenous groups in South America, and this topic really gets me interested. And with a team of many other brilliant people, we create The Living Library event which is divided into different panels where many, truly great artists will participate and talk with anthropologist, environmental, activist etc. The series is curate and moderated by Pernilla Glaser.
There are three dates of The Living Library events – the first already happened on 11th May, the other two will take place on 9th and 17th June. What are their differences?
The first one was of the topic "Whose Knowledge?" where the different structures of the knowledge were pointed out – e. g. between human and animals, or Western World and other areas. One of the participants was Ingela Ihrman who's speaking about her artistic practice when she does performs dressed up as an animal or plant and tries to understand the species from within and explains their way of living relation to the world. But also from a human perspective, when she combines everyday life with natural science and humour. The main thought of the first panel is to think about who produce the knowledge, or how do we value the knowledge etc.
The other panel is called "How to Listen?" and is dedicated to the fact that most of the artists are observers, listeners more than activists for example. This session takes place as you mentioned on 9th June. And the third panel of "How to Act" will be held on 17th June.
The first event was recorded as well as will be the other two sessions in June (video/s will be added as soon as it will be published). The poster of The Living Library to the sessions is attached to this interview, and more information are accessible at The Living Library: first session report and invitation to two other sessions in June.