Interview with Ylva Hillström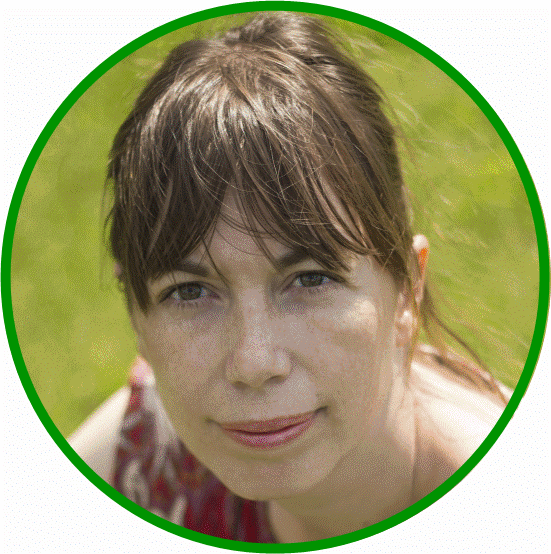 Ylva Hillström is a curator at the Education department at Moderna Museet in Stockholm. She holds a MA in art history. Ylva has a strong engagement in environmental issues. She initiated Moderna Museet's online platform Acclimatize in 2016, where people of all ages could upload creative responses to the climate crisis and draw inspiration from interviews with renowned artists.
Anna: My first question is a general question that I always gave to all people I interview: how did you end up as a curator and art educator?
Ylva: Well, when I came to Uppsala as a student, I started studying psychology. And then I thought it might be fun to analyse books instead, so I moved on to literature. And then, after two years of literature studies, I decided to study art history because I had always had an interest in art, but I did not think of it as a future occupation. But then I loved it, and when I had nearly finished my education, I became an intern at Moderna Museet, and I basically never left. So, I have been there for many years now, and have been doing different things. I started as a freelancer and had guided tours and practical workshops with kids and adults. And after that, I worked as a collection registrar for a couple of years. And then I became a curator with the learning department.
Psychology is a very interesting field of study and definitely very useful in the art which is full of emotion. How much do you use your psychology education in your job?
I didn't study psychology for very long, but I think it's a good background, since both art and literature are, to an extent, about human emotions.
You mentioned that you have worked in Moderna Museet for a very long time. However, you also worked in Bror Hjorths Hus in Uppsala. What different experience do you get from those two art institutions?
When I graduated and had done my internship at Moderna Museet, I had the opportunity to work there as a freelance art educator. At the same time, I also worked as an art educator and museum host at Bror Hjorths Hus in Uppsala, where I live. That experience was very valuable to me. Bror Hjorths Hus is a rather small museum, an artist's home and studio, and they also have temporary exhibitions. It's very personal and intimate, with a special atmosphere and a long history of art pedagogic work. Moderna Museet is a different story. It's an international museum with a huge collection and major exhibitions. But even though it is a much bigger museum, the personal touch and the storytelling is still important.
Concentrating now a bit on your current art "Acclimatize" project. Could you introduce it a little bit to our readers, please?
To begin with, Acclimatize was a digital platform, that Moderna Museet launched in 2016. When we started planning the symposium that took place two weeks ago, we decided to use the same name. "Acclimatize" now functions as a label we at Moderna Museet can use when we explore different ways of addressing climate change and sustainability in relation to art and culture.
The important part of the project was the quote that "creativity can change the world." How successful is it to fulfil this after several years in the "Acclimatize" project?
The website and the symposium are very different, but both share the same assumption: creativity can change the world. I mean, creativity is the foundation for all inventions, and it's vital to change. And art comes out of creativity, of course. I also believe that art experiences can be transformative. Art allows you to see the world in a new light. s. With the Acclimatize site, we o wanted to create a platform where people could view artworks or other creative expressions, be inspired, and then use that inspiration to express themselves around climate change and sustainability. And finally upload their creative responses on the site.
As a society, we need to transform. We all know we need to change our ways of living. But I do not think it is enough only to know that we must change, intellectually. I do not think that it's enough that we know that the average temperature has risen … We need to feel it. We need to get the knowledge into our bodies, so to speak. And I think, that if you use your creativity, you process things differently than by simply engaging your intellect. Regrettably, the Acclimatize site was open for new uploads only for three months because of limited funds. But the website is still accessible, even if all the functions are not working quite as they should. I actually dream of launching a 2.0 version of the Acclimatize site. The idea still has a lot of potential.
When it comes to the symposium, we thought that sustainability and climate change are issues that all museums need to address, so we wanted to arrange something where the roles museums can play in the transformation to a sustainable future could be discussed among museum professionals. Museums have a unique position in that they have collections filled with artefacts and collective memories. They have the potential to make people connect with and relate to ancient history as well as to contemporary life. Life is not just about us and what we want to consume, and for us to realise that, I believe must tap into a bigger narrative. Museums are great in that way, they can help people connect with other narratives.
I understand your point of view, but still, some voices say that to make this change possible, you cannot change, you need to educate a whole new generation into this mentality and thought education. You also have experience as an art educator, so I need to ask: do you agree or disagree with this perspective?
I don't think we have the time to focus on children only, everybody can make changes. Even 90-year-olds can be part of the change. I get a bit sceptical when I hear that these are questions for younger generations to tackle. To tell young people "don't act like we did" is a convenient way of putting the burden on someone else's shoulders. Having said that, I do believe it's key to educate children and make them aware of the climate crisis. And to also provide them with some hope.
Of course, it would be ridiculous to say that museums can fix everything. But I think that as public arenas, museums can make space for important conversations about our future. Arrange exhibitions that highlight different aspects of the world we live in and what is currently at stake. Connect people with nature, culture and each other. And so on.
Speaking of time, this time is quite unnormal by the pandemic of Covid-19. Do you think that it is a human chance to change something or that these discussions are displaced by the different, for example, economical debates?
We must be able keep two thoughts in our heads at the same time. We cannot just drop the ball here and focus on restarting the economies only. We can't focus on getting back to where we were before the pandemic, because where we were was not a good place. We were heading in the wrong direction. I read that some countries try to restart their economies in a sustainable way. That sounds hopeful. I wish everybody, all governments, could think in that direction.
Now moving to your Symposium from mid-February. There were many parts and contributions to global warming and climate change dedicated to the areas all over the world. Could you briefly introduce the idea and main thought of the project?
We wanted to discuss the roles that museums as public spaces can play in the transition towards the sustainable future. So we weren't focusing on how the museums can reduce their CO2 footprint, for example, even though that is certainly also very important Instead, we addressed what we can do when it comes to our audiences, how we can work with different exhibitions, how we can work with programming and educational activities. So, we had a varied and full program with many different speakers. Moderna Museet's director Gitte Ørskou welcomed everybody and expressed how excited she was for the opportunity to address these important issues in collaboration with the MISTRA Environmental Communication program. Lotten Gustafsson Reinius, who was a curator of the exhibition The Arctic – While the Ice Is Melting, was a keynote speaker and talked about how she had put that exhibition together and the responses that they had so far. Jonna Bornemark, a Swedish philosopher, was our second keynote speaker. She spoke about the 15th century philosopher Nicolaus Cusanus and his ideas concerning ratio and intellectus, and the importance of accepting the fact that there are things we do not know and will never know. And that museums have wonderful opportunities to work with what cannot be known, and with emotions.
We also had several case studies where different museums, cultural institutions and artists presented exhibitions and projects. With two exceptions, all talks were in Swedish. We had two Zoom discussions in breakout rooms during the day. The ideas that came up during these sessions will be sent to Kulturrådet, the Swedish Arts Council.
Did you find some surprise by the answers of the audience? In the context of COVID-19… You mentioned the emotions are the most important part of art, and this pandemic time raised a whole new dimension of emotions. People are locked inside, do not see the outcome of lockdowns and even in Sweden, which doesn't have those strict restrictions as the other European countries, people feel different.
I heard from several colleagues that they were happy we arranged this now, in these difficult times, when people need to meet, talk, and think ahead about what we will do when we reopen the museums. So I think, it was important, that the symposium gave some hope, that one day we will open up again and be inspired to work with sustainability issues.
How do you see the output of the Symposium afterwards? Do you have already plans for your next steps?
Yes, we agreed that we need to keep the conversation going. So maybe we should meet again, in a year or so, and make a similar Symposium. There is so much going on now, both nationally and internationally, that it is difficult to get an overview. If someone could create a site where all different initiatives and opportunities are gathered, I think it would be welcome.
Also, I think some kind of toolkit would be useful. Maybe there are already some toolkits or checklists out there on how to make exhibitions more sustainable. But I would be interested in adding a more philosophical dimension, which could be applicable when it comes to programming, education, school programs etcetera.
At the end of the symposium, we asked the participants to send a postcard to Moderna Museet. A real physical object, a postcard with a stamp, to balance the digital symposium. On the postcard there should be an intention for 2021, something the museum could plan for or realise during this year, that is related to sustainability. If your ideas remain unspoken, they are less likely to become manifest. So simply to put intentions on a postcard might increase the chances of seeing the ideas blossom.
Great idea! Thus, we can close our interview by an appeal to our readers that they can join in, manifest their wishes for 2021 and send it to Moderna Museet.
Yes! That would be lovely. It can be something very simple, or something more ambitious. Something that relates to sustainability, that you would like to do this year.
The symposium was recorded, and will be available on Moderna Museet's YouTube channel shortly.